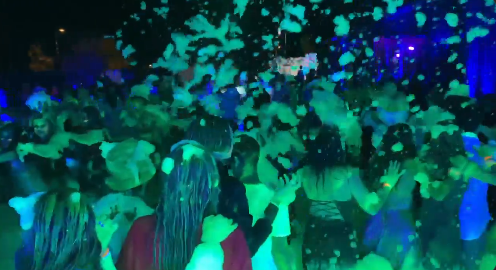 UV GLOW FOAM PARTY WITH LIGHTS AND SOUND SYSTEM SET UP
Price Includes Setup & Takedown w/ Operator
This includes everything from the foam package and sound package plus the UV Glow Foam!
Get ready to glow and let the foam fly with our UV Glow Foam Party complete with Lights and Sound System setup! This isn't just a party—it's an electrifying, immersive experience that turns any event into a glowing, pulsating, foam-filled extravaganza.
Imagine stepping into a neon wonderland, where vibrant colors dance and shimmer under the UV lights. The air is filled with the laughter and cheers of your guests, amplified by our high-quality sound system. But this is just the beginning of the fun!
Suddenly, the foam starts to flow, transforming your space into a frothy playground of bubbles. The excitement is palpable as everyone is enveloped in the soft, glowing foam. Whether you're dancing in the bubbles or diving into the foam, each moment is filled with joy, laughter, and unforgettable fun.
The UV lights add an extra layer of magic to the experience, making the foam glow with an array of dazzling colors. The whole event turns into a sensory spectacle, where the foam's soft touch, the vibrant visual of glowing bubbles, and the sound of your favorite music create an unforgettable party atmosphere.
Our UV Glow Foam Party with Lights and Sound System setup is designed with your safety and enjoyment in mind. We use non-toxic, hypoallergenic foam, and the UV lights are safe and fun for all ages. The sound system delivers clear, high-quality sound that can be tailored to your music preferences.
So, are you ready to turn your event into a foam-filled, glowing spectacle of fun? With the UV Glow Foam Party from KRK Inflatables, you're not just hosting a party—you're creating an unforgettable, sensory-filled celebration. Dive into the glow with KRK Inflatables, and let the foam-filled fun begin!
Base rate is for up to a 1-hour party between the hours of 8:00 AM and 9:00 PM.
Additional time can be booked for $100 more per hour. For after-hours parties, please call for pricing.
Additional Foam Machine can be ordered as well call for pricing.
*Must have a water source within 50'. Outside of 50', water pressure may drop and foam production may reduce.