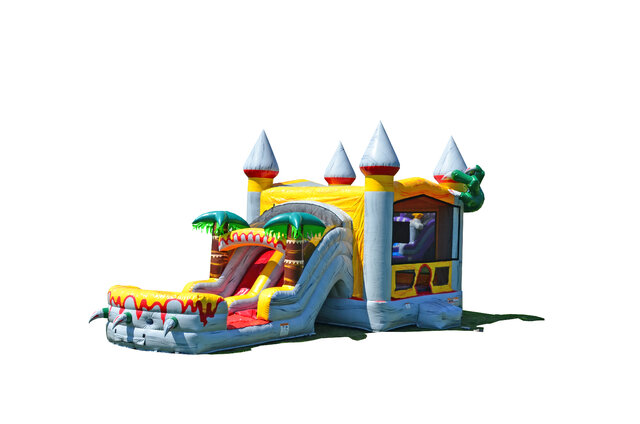 T-Rex Dual Lane Wet/Dry Combo Bouncer
Actual Size: 31′ L x 13′ W x 15′ H
Outlets: 1




Get ready for a Jurassic journey of a lifetime with our T-Rex Dual Lane Wet/Dry Combo Bouncer! This isn't just a bouncer, it's a time machine that transports you back to the age of dinosaurs for an epic adventure filled with excitement and boundless fun.
Imagine stepping into a prehistoric playground, where the mighty T-Rex reigns supreme. The vibrant design and dinosaur-themed decorations will captivate every young adventurer and set the stage for a day of roarsome fun.
Begin your prehistoric expedition in the spacious bounce area, where every leap and bound is filled with giggles and roars. Feel the thrill as you jump and bound in the belly of the beast, creating memories that will last a lifetime.
But the adventure doesn't stop there. Challenge your friends to a race up the climber and down the dual lanes of the slide. Whether you choose to go wet or dry, the excitement is palpable as you swoosh down, racing against your friends before landing with a triumphant cheer.
Our T-Rex Dual Lane Wet/Dry Combo Bouncer is designed with your safety and enjoyment in mind. Its sturdy structure and high-quality materials ensure a safe and thrilling experience, whether you're hosting a birthday party, a school event, or just enjoying a day of backyard fun.
So, are you ready to journey back in time and embark on a prehistoric adventure? With the T-Rex Dual Lane Wet/Dry Combo Bouncer from KRK Inflatables, you're not just renting a bouncer—you're creating a day filled with Jurassic fun and unforgettable memories. Unleash the fun with KRK Inflatables and let the prehistoric adventure begin!