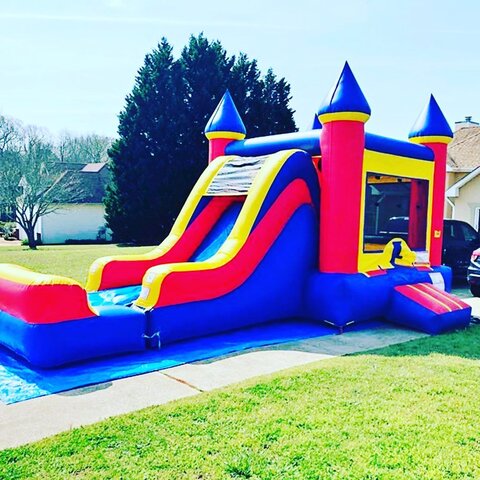 Red/Blue Wet Combo Bouncer
Actual Size: 28'Lx13'Wx15'H
Outlets: 1




Get set for a splash-tastic adventure with our vibrant Red/Blue Wet Combo! This isn't just an inflatable; it's your own personal water park, bursting with fun and excitement and guaranteed to bring a wave of joy to any event.
From the moment you lay eyes on its striking red and blue design, you'll feel like you've stepped into an aquatic wonderland. Whether it reminds you of a whimsical water castle or a superhero's island hideaway, the Red/Blue Wet Combo promises a day filled with laughter, fun, and, of course, plenty of splashes.
Begin your journey in the spacious bounce house, where every leap and bound is filled with giggles. Imagine bouncing high into the sky, just like a droplet of water sprung from a fountain, before landing on the soft, bouncy floor.
But that's just the start. Once you've bounced to your heart's content, it's time to ascend the climber, reach the top of the slide, and prepare for the most exhilarating part of your adventure. Feel the thrill as you swoosh down the slide, a refreshing spray of water accompanying your swift descent, before making a grand splash in the pool below.
Our Red/Blue Wet Combo is designed with your safety and enjoyment in mind. Its sturdy structure and high-quality materials ensure a safe and thrilling ride, while the water elements add an exciting twist to your backyard fun.
So, are you ready to dive into a day of unforgettable fun? With the Red/Blue Wet Combo from KRK Inflatables, you're not just renting a water slide; you're creating a splash of joyous memories. Because when it comes to unforgettable fun, KRK Inflatables delivers the ultimate splash!