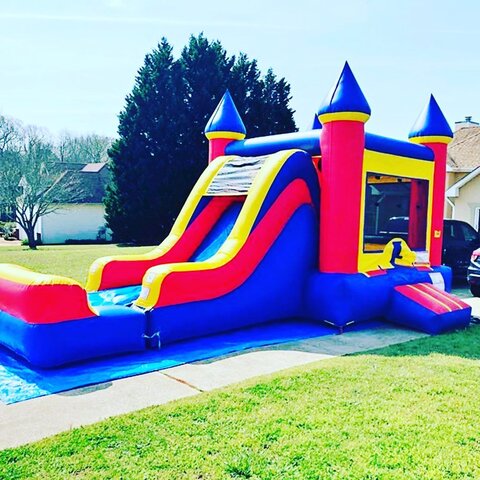 Red/Blue Dry Combo Bouncer
Actual Size: 28'Lx13'Wx15'H
Outlets: 1




Get ready to discover a universe of fun and excitement with our stunning Red/Blue Dry Combo! This is not just an inflatable - it's a passport to a realm of bouncing delights and sliding thrills, offering boundless joy for every kid and the kid-at-heart.
As soon as you set your eyes on this vibrant masterpiece, the journey begins. Its majestic red and blue design, reminiscent of a royal castle or a superhero's fortress, instantly captures the imagination and invites you in for an unforgettable experience.
Begin your adventure in the expansive bounce house, where every jump feels like you're reaching for the stars. The bouncing area is a universe of its own, where the only limit is your imagination. Whether you're practicing superhero landings, bouncing like you're on the moon, or inventing your own fun games, the laughter and joy will echo for hours.
But the fun doesn't stop there. Just when you think you've bounced to your heart's content, the journey continues with an exciting climb followed by a thrilling slide. Feel the exhilaration as you zoom down the slide, the wind rushing past you, before landing with a triumphant cheer.
Our Red/Blue Dry Combo is crafted with safety and durability as top priorities, ensuring a fun and worry-free experience for everyone. It's perfect for birthdays, school events, community gatherings, or simply a day of backyard fun.
So gear up for a fun-filled adventure with the Red/Blue Dry Combo from KRK Inflatables! Because when it comes to creating memorable moments and endless smiles, we bring the fun to you!