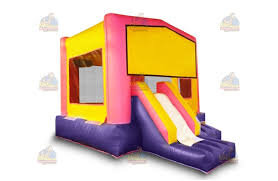 Pink/Purple Dry Combo Bouncer
Actual Size: 21'Lx13'Wx15'H
Outlets: 1




Unleash a world of fun and excitement with our enchanting Pink/Purple Dry Combo! This isn't just an inflatable—it's a magical castle filled with joy, laughter, and endless fun, perfect for every prince and princess at heart.
The moment you set eyes on its charming pink and purple design, you'll feel like you've been whisked away to a fairy-tale kingdom. The Pink/Purple Dry Combo is more than just a bounce house—it's a realm of dreams, where imaginations run wild and fun reigns supreme.
Step into the spacious bounce area and prepare for a royal jumping extravaganza! Each leap feels like you're touching the sky, every bounce filled with giggles and cheers. Feel the thrill as you jump and bound in your very own castle, creating memories that will last a lifetime.
But the magic doesn't end there. A grand adventure awaits as you ascend the climber and prepare to slide down the majestic slide. Feel the exhilaration as you swoosh down, the wind whooshing past, before landing with a triumphant cheer.
Crafted with safety and durability as top priorities, the Pink/Purple Dry Combo offers a safe and worry-free experience for everyone. It's perfect for birthdays, school events, community gatherings, or simply a magical day of backyard fun.
So, are you ready for a fairy-tale adventure? With the Pink/Purple Dry Combo from KRK Inflatables, you're not just renting an inflatable—you're creating a day filled with royal fun and magical memories. Step into the magic with KRK Inflatables, and let your adventure begin!