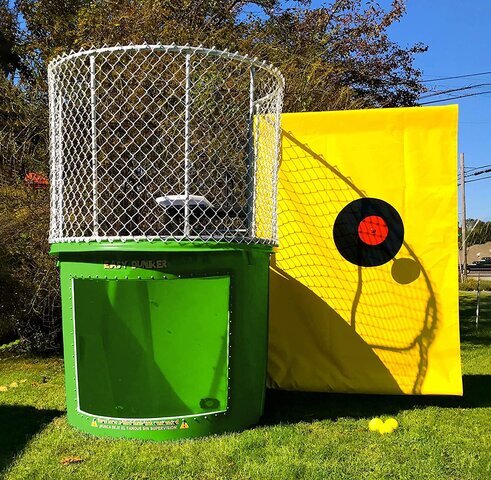 Dunk Tank
Dive into a splash of excitement and laughter with our high-octane Dunk Tank rental! This isn't just a tank - it's your ticket to an exhilarating event filled with anticipation, suspense, and a whole lot of fun!
Picture this: a towering tank filled to the brim with cool, sparkling water. Atop the dunk seat, a brave volunteer perches, casting teasing smiles at the line of eager participants, each one clutching a ball, ready to take their best shot. The air is thick with suspense, the crowd's cheers and laughter echoing around the event.
With a well-aimed throw, the trigger is hit, and SPLASH! The volunteer plunges into the water, the crowd erupts into cheers, and the laughter is infectious. It's a perfect hit!
But the Dunk Tank isn't just about the dunking; it's about the anticipation, the friendly competition, and the shared laughter. It's an instant crowd-pleaser, a sure-fire way to bring people together, and a highlight of any event.
Our Dunk Tank is designed with safety and fun as top priorities. Its sturdy construction ensures a secure experience for all participants, and the clean, cool water provides a refreshing splash on a hot day.
Whether it's a fundraiser, a school fair, a community event, or a simple backyard party, our Dunk Tank adds an unforgettable element of fun. With a Dunk Tank rental from KRK Inflatables, you're not just adding an activity - you're creating moments of joy and laughter that will be remembered long after the event is over.
Ready to make a splash at your next event? Rent a Dunk Tank from KRK Inflatables, and let the dunking fun begin!