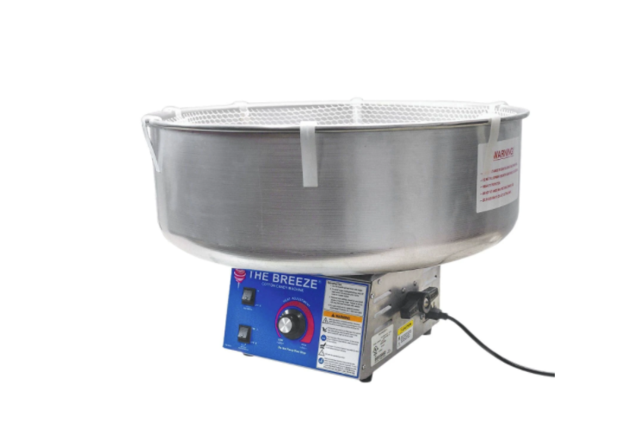 Cotton Candy Machine
Setup Area: 3x3
Outlets: 1




Prepare for a sweet whirlwind of fun with our Cotton Candy Machine rental! This isn't just a machine - it's a magic portal to a world of fluffy sweetness, turning any event into a sugar-spun wonderland of delight and amusement.
Imagine the wide eyes and excited gasps as the machine whirls into action, spinning threads of sugar into a fluffy cloud of pure delight. The air fills with the tantalizing aroma of cotton candy, evoking memories of fairs, carnivals, and childhood joy.
Operating the Cotton Candy Machine is a breeze, even for beginners. It's as simple as pouring in the sugar, turning on the machine, and watching the magic happen. In no time, you'll be spinning fluffy confections that are as fun to make as they are to eat.
But our Cotton Candy Machine does more than create tasty treats. It's a source of entertainment, a conversation starter, and a unique experience that guests of all ages can enjoy. Whether you're hosting a birthday party, a community event, or a school fair, our Cotton Candy Machine adds a touch of whimsy and a whole lot of sweetness.
Our Cotton Candy Machine is designed with your safety and convenience in mind. It's easy to operate, easy to clean, and comes with all the necessary supplies to get you started. All you need to provide is the sugar... and the eager cotton candy lovers!
So, are you ready to spin up some sugary fun? With the Cotton Candy Machine from KRK Inflatables, you're not just renting a machine—you're creating a whirlwind of sweet memories. Ignite the fun with KRK Inflatables, and let the cotton candy magic begin!

Cotton candy machine rental is for the machine only. 1 box of sugar and cones are sold for $15. Addiitional supplies are available at the same to cost to add different flavors.(See Flossugar in extra's)