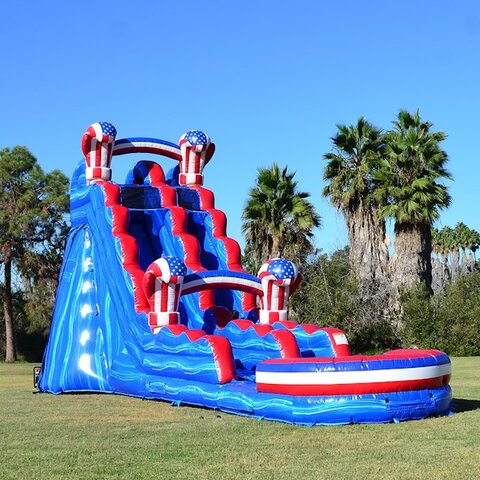 20' American Boxing Wet Slide
Actual Size: 36L x 15W x 20H
Setup Area: 45L x 20W x 23H
Outlets: 1




Step into the ring and prepare for a knockout adventure with our thrilling American Boxing 20-foot Single Lane Water Slide! This isn't just a water slide - it's a championship round of fun and excitement, promising a title-winning splash of laughter and joy!
From the moment you see its towering height and the bold, patriotic design, you'll feel like you've entered the main event in an epic boxing match. This 20-foot tall structure isn't just a water slide; it's an invitation to a fun-filled adventure, a chance to rise to the challenge and make a splash in the arena of fun.
Experience the thrill of the climb, like a champion boxer entering the ring, ready for action. From the top, enjoy the panoramic view of your cheering fans - then take a deep breath, embrace your courage, and launch yourself down the slide.
Feel the rush of the descent, water spraying around you, as you zoom down faster than a lightning jab. The world becomes a blur of excitement as you slide down the American Boxing water slide, before making a grand, champion's splash in the pool below.
Our American Boxing Water Slide is built with top-notch safety standards in mind, ensuring a thrilling and secure experience for all. Its sturdy construction and safe, soft landing pool mean you can focus on the fun, knowing you're in safe hands.
Are you ready to take on the challenge and make your event a champion's party? With the American Boxing 20-foot Single Lane Water Slide, you're not just renting a water slide - you're stepping into the ring of unforgettable memories. Rise to the occasion with KRK Inflatables, and let the thrilling bout of fun begin!