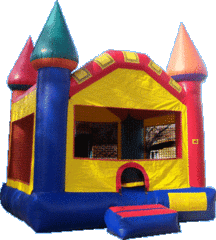 15x15 Multi Color Bounce House
Actual Size: 15'Lx15'Wx15'H
Outlets: 1




Get ready to hop into a world of vibrant fun with our Primary Color 15x15 Bounce House! This isn't just a bounce house—it's a ticket to a realm of boundless joy and unending laughter, transforming any event into a high-flying carnival of delight.
Picture this: a bouncy castle, ablaze with the primary colors of red, blue, and yellow, ready to welcome all young adventurers into its cheerful domain. The moment your little ones step inside, their faces light up with excitement as they realize the boundless fun that awaits them.
In this generous 15x15 play space, every bounce, leap, and tumble is a new adventure. Children can jump sky-high, chase each other around, or simply lie back and watch the clouds go by. The bouncy, soft surface ensures each landing is as safe as it is fun.
But our Primary Color Bounce House is about more than just bouncing. It's about sparking imagination, encouraging physical activity, and creating a space for children to interact, laugh, and play. It's a backdrop for countless games and endless joy, whether you're hosting a birthday party, a neighborhood get-together, or a school event.
Our Primary Color Bounce House is designed with your children's safety and enjoyment in mind. Its high-quality materials and sturdy construction ensure a safe and thrilling experience for all. Plus, its vibrant design is sure to brighten any event.
So, are you ready to bounce into a world of fun? With the Primary Color 15x15 Bounce House from KRK Inflatables, you're not just renting a bounce house—you're creating a playground of joy and unforgettable memories. Jump into the fun with KRK Inflatables and let the bouncing begin!