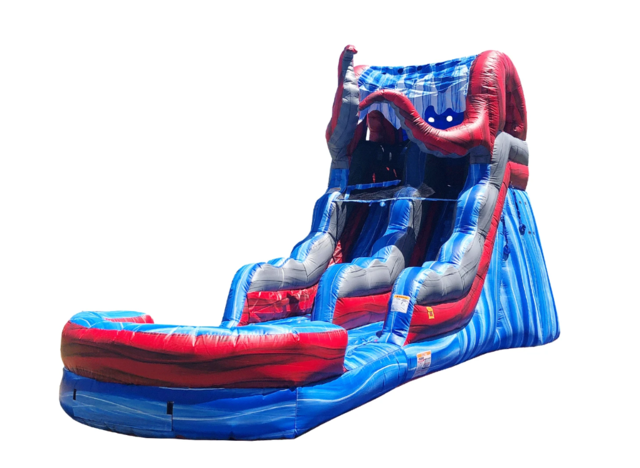 15' Ocean Battle Wet Slide
Actual Size: 28'Lx11'Wx15'H
Outlets: 1




Prepare to make a splash with our exhilarating 15-foot tall Ocean Battle Wet Slide! This isn't just a water slide - it's a high-seas adventure that promises a tidal wave of fun and excitement!
As you ascend the 15-foot peak, imagine you're a brave adventurer climbing the crest of a mighty ocean wave. The vibrant blues and sea-themed decorations transport you to a thrilling maritime world, and the anticipation builds with every step.
Once you reach the top, take a moment to enjoy the view from the crow's nest - then it's time for the main event. With a deep breath and a burst of courage, you plunge down the slide, the water spraying around you as you pick up speed. Feel the adrenaline rush as you zoom down this fantastic water slide, faster than a dolphin darting through the waves!
And then comes the grand finale - the splashdown! You hit the pool with a joyous splash, the cool water a refreshing finale to your Ocean Battle adventure.
Our Ocean Battle Wet Slide is built with the highest safety standards in mind, and its sturdy construction and safe, soft landing zone will put every parent's mind at ease. But this isn't just for the kids - adults can join in the fun too! After all, who doesn't love a good adventure on the high seas?
So are you ready to transform your backyard into a thrilling aquatic adventure? With the 15-foot Ocean Battle Wet Slide, you're not just renting a water slide - you're creating unforgettable memories. Set sail for fun with KRK Inflatables, and let the adventure begin!